Dining Highlights in April at Sheraton Saigon Hotel & Towers
Monday Apr 12, 2021
1. Extra burger and Banh mi for VND 10,000
Continuing Marriott International's celebration of the joyous combination of comfort food and great company in Vietnam since March, discover the mouth-watering "Extra burger & Banh mi for 10K" promotion. The culinary experts at eight hotels and resorts all across the country have created an exclusive selection of delicious and distinctive dishes that are sure to put a smile on the face of every diner.
And that's not all; friends and families who dine together this April take advantage of an amazing "Buy one, get extra one for VND 10,000" promotion for Marriott Bonvoy members! Not a member yet? Click here to join for free, and you could dine for just VND 10,000 all month long!
The "Extra burger & Banh mi for 10K" lets guests savor a series of handcrafted burgers, special sliders and blissful banh mi, including Western and Asian options, all made using the finest ingredients and served in freshly-baked buns and baguettes. With a choice of mouth-watering meat, sumptuous seafood and crisp vegetables, everyone can discover their new favorite burger or banh mi with Marriott International.
Highlights of the special promotion from Sheraton Saigon Hotel & Towers are six tantalizing selections of banh mi and burgers designed by expert chefs that guarantee a never-before dining experience: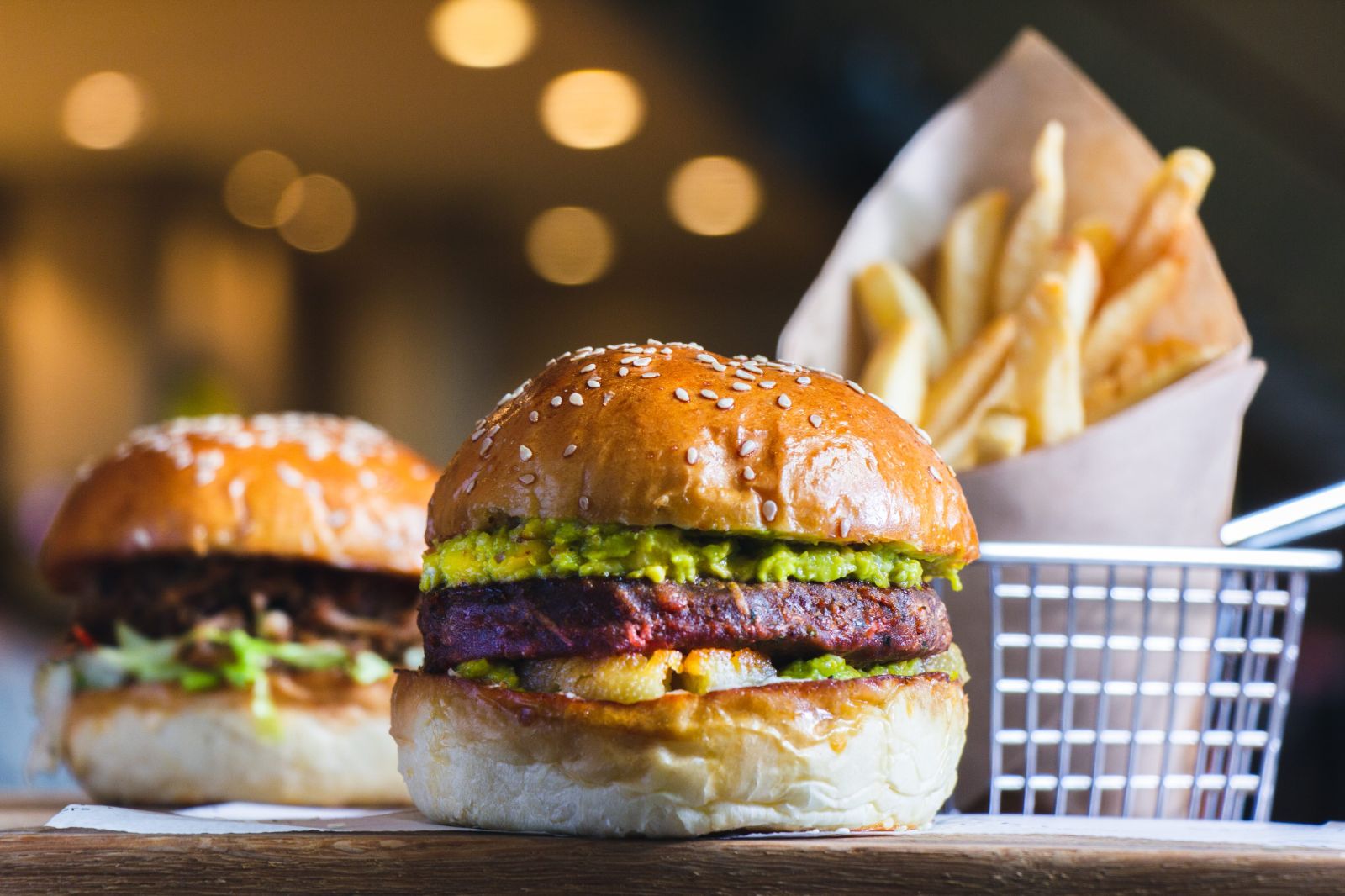 The Wagyu Beef – VND370,000++
Not just meat, the premium Wagyu Beef Burger offers one of the best types of meat there is, placed on a toasted sesame bun, with tomato-shallots chutney and French fries. Savor the enticing melt-on-the-tongue texture and heavenly flavors of the iconic Wagyu beef in every bite!
The Vegetarian "Alternative Meat" Burger – VND320,000++
Make your plant-based dream come true with our Vegetarian "Alternative Meat" Burger. Relish in the "alternative meat" topped with guacamole, BBQ sauce, grilled pineapple between a vegan bun, with French fries and BBQ mayonnaise for a perfectly balanced and tasty experience.
Pulled Pork Burger – VND260,000++
Expand your palate with the Pulled Pork Burger - fully loaded with Vietnamese pulled pork, nestled on a bed of shredded pickled cabbage and BBQ sauce between a freshly baked sesame bun.
The Classic "Banh mi" – VND160,000++
Have a taste of the Vietnamese Classic "Banh Mi" - a baguette toasted to perfection and filled with pâté, pork belly, carrot, coriander, chili and mayonnaise. A quick bite that promises a long-lasting impression.
The Veggie "Alternative Meat" Banh mi – VND250,000++
Discover a veggie version of Vietnamese all-time favorite food with our "Alternative Meat" Banh mi - a toasty baguette fully packed with stir-fried "Alternative Meat", mushrooms, carrot, coriander, chili and herbs.
Egg & Pâté "Banh mi" – VND140,000++
Simplicity is sometimes the best quality. Go back to basics with our Egg & Pâté "Banh mi" and savor highly flavored pork pâté combined with crispy fried egg, carrot, chili, green salad and soya sauce for a delightful foody affair.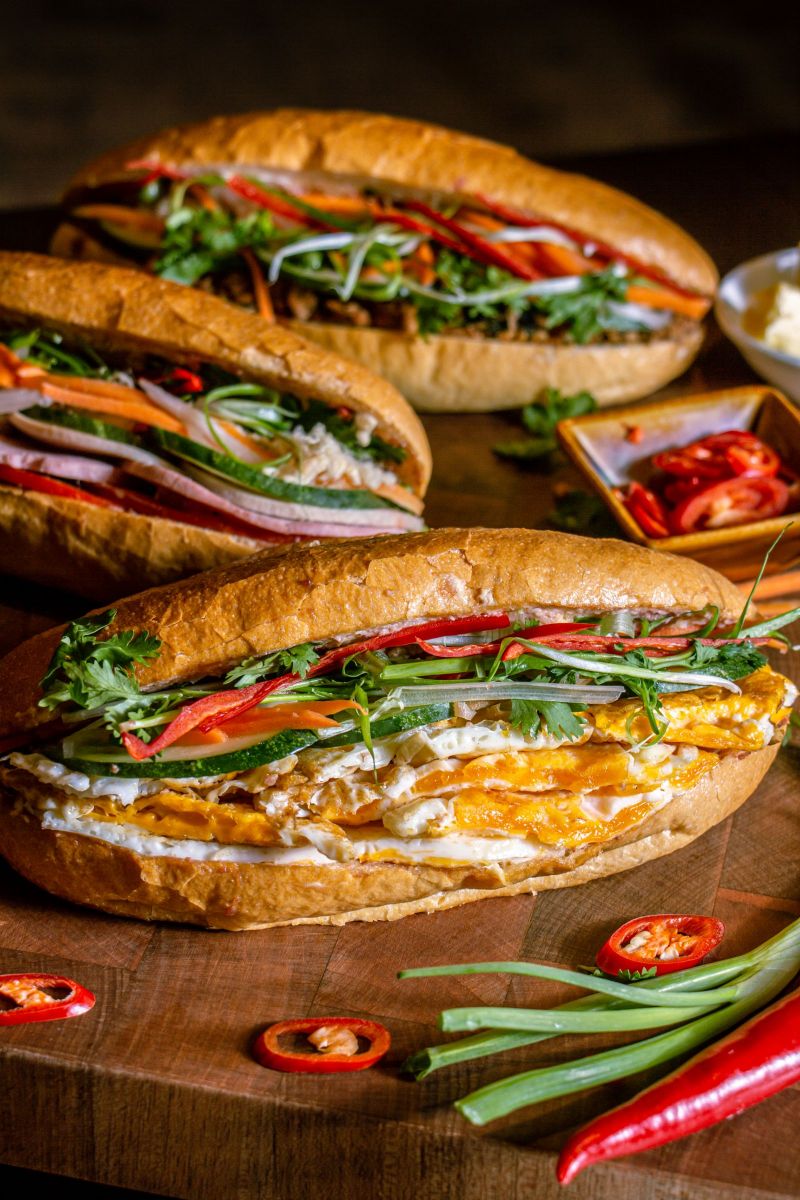 2. Eggs-traordinary Easter Lunch Buffet at Saigon Café
Saigon Café is where all the Easter Eggs are hidden on April 4th. Come and join an Eggs-traordinary Easter lunch buffet encompassing a scrumptious spread of international delights and fun-filled family activities such as egg hunting and egg painting for our little guests to enjoy alongside a giant wandering Easter Bunny. Hop on to the marvelous dessert corner to find a delicious Easter sweet collection including a variety of handcrafted chocolate treats that will make you fall in love from the very first bite. Finally, there will be a kids' corner with interesting eggs hunting, eggs painting competition and a wandering Easter bunny for everyone's enjoyment.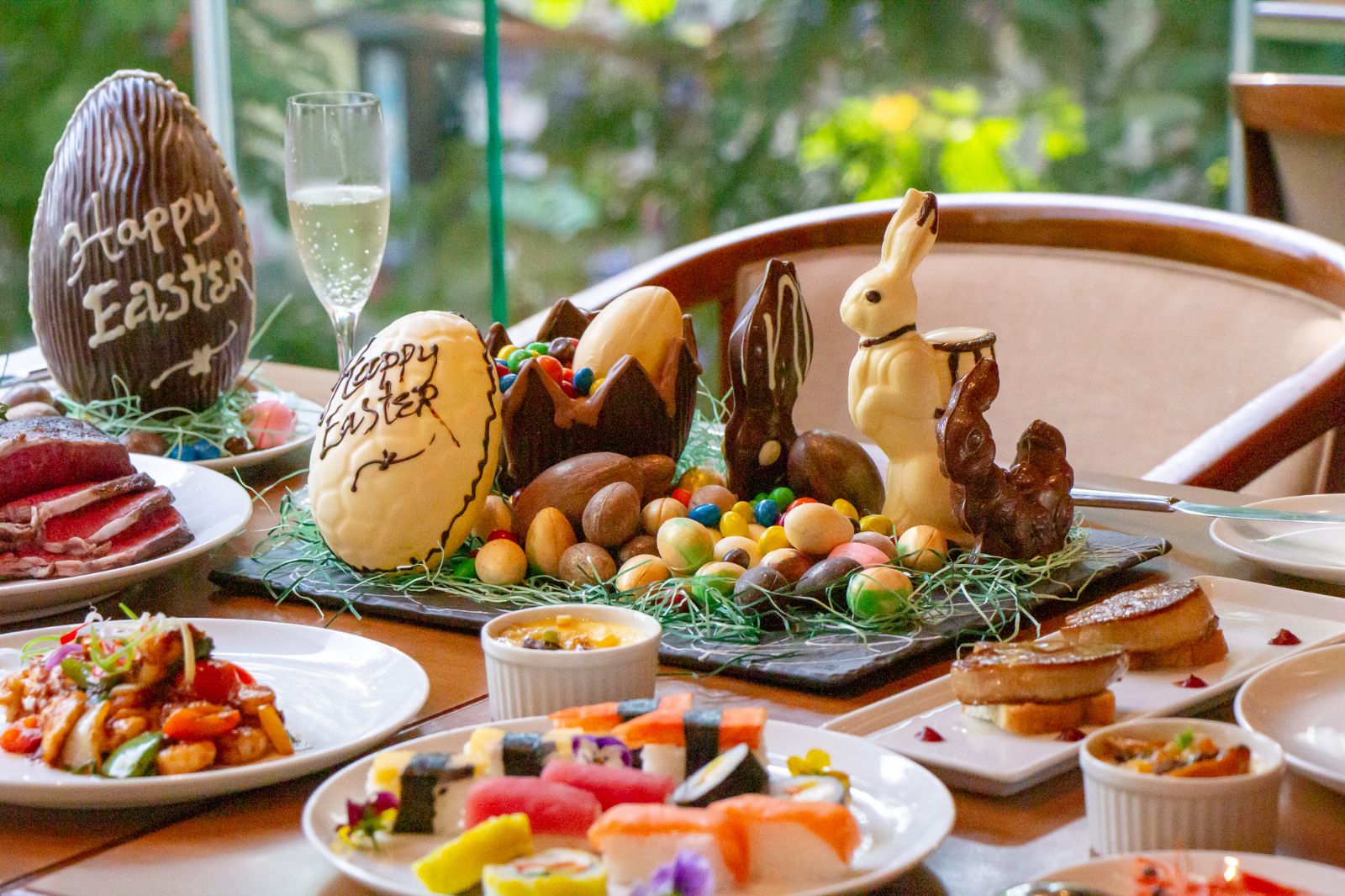 3. Celebrate Hung Kings' Festival at Saigon Café
Join Saigon Café on a grand celebration of Hung Kings' festival with a traditional feast of delectable Asian specialties and a top-notch series of premium seafood. Situated on the first floor and overlooking bustling Dong Khoi street, Saigon Café offers diners a splendid experience encompassing local specialties at its finest. Discover a wide range of live seafood cooked to order from the seven interactive cooking stations including flambéed lobster and Nha Trang oyster from the grill, flower crab and river prawn from the steam corner and selections of local snails stir-fried in tantalizing sauces from the wok station. Other highlights of the night include stir-fried Len snail with lemongrass coconut milk, baked lamb leg with rosemary, baked whole sturgeon fish, crispy pork with honey and sesame seed, beef tenderloin steak with piquant sauce, oyster with cheese and foie gras cooked à la minute. The mouth-watering dessert station will also satisfy your appetite with a tantalizing collection of Vietnamese sweet soups and international delights. There is free flowing house wine and draft beer to be accompanied with your favorite dishes during the whole night for a memorable Hung King day celebration.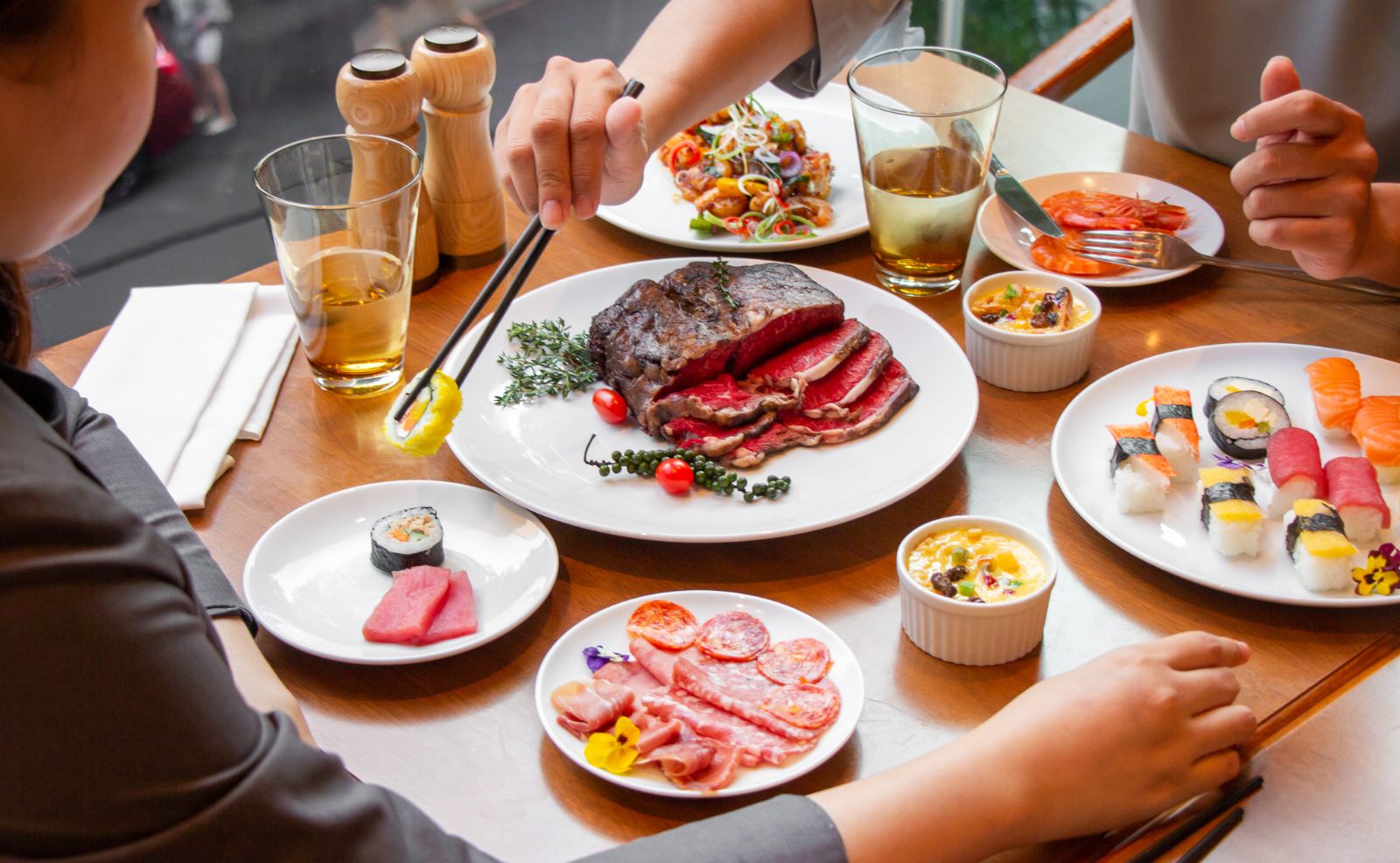 4. Vietnamese Reunification Day at Saigon Café
Celebrate Vietnamese Reunification Day at Saigon Café and create a memorable experience on this historical holiday over a lavish seafood dinner buffet. Unveil a sumptuous feast with incredible culinary gems such as flambéed Nha Trang lobsters with fiery XO sauce, oven roasted prime rib with Yorkshire puddings, freshly shucked oyster, roasted bone ham, baked whole fish with spring onion and the delectable foie gras with apricot or cranberry sauce. A wide range of Japanese specialties, Vietnamese delicacies, noodle dishes with Vietnamese signature beef Pho, seafood on ice with innovative dipping sauces and carving corner also awaits di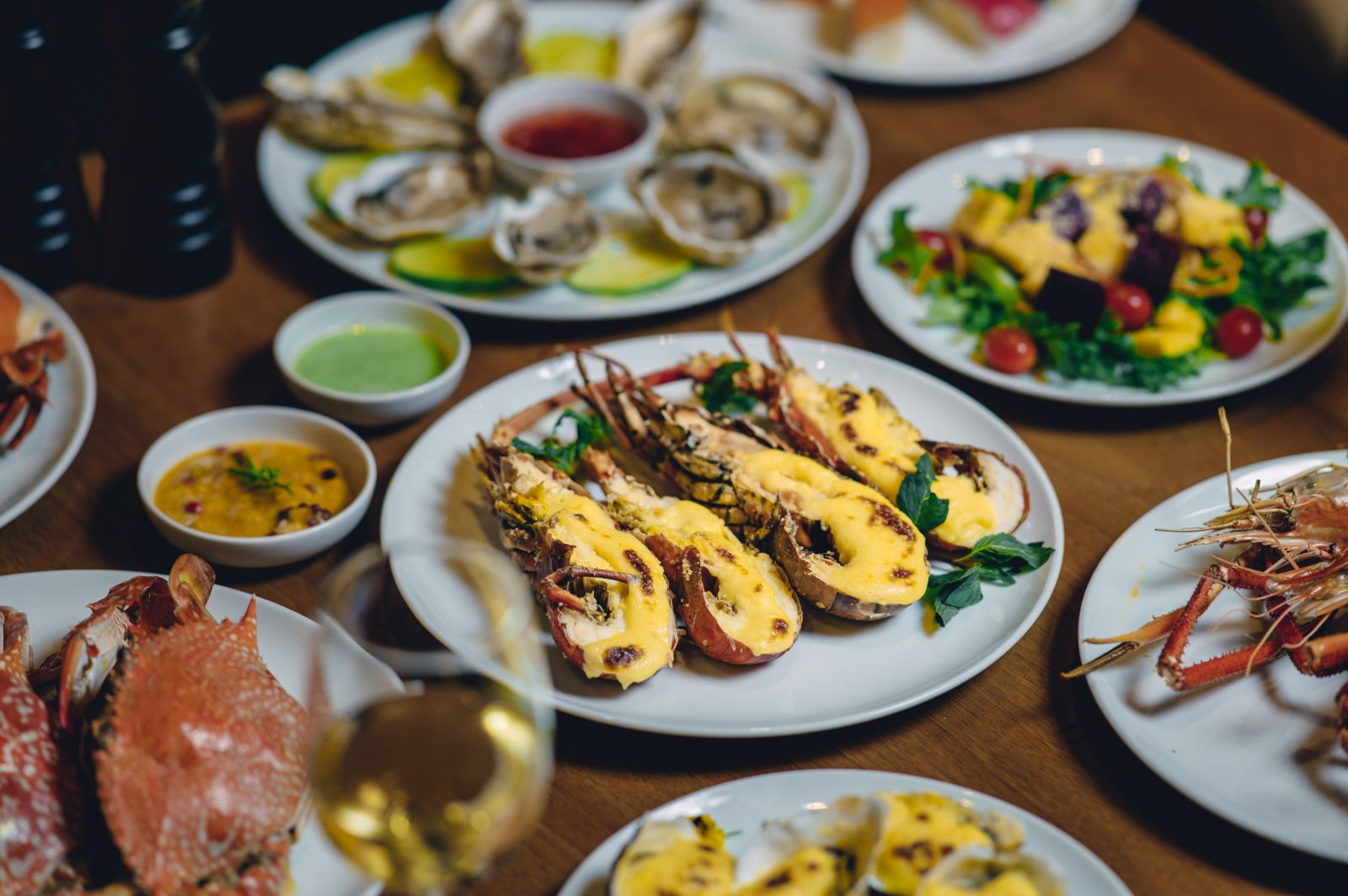 5. Mat-cheese Afternoon Tea at The Lounge
Unveil the sensational Mat-cheese Afternoon Tea set in the cozy atmosphere of The Lounge over a range of bite-sized sweet and savory delights inspired by the unusual pairing of green tea and cheese. Cheese connoisseurs will be delighted to find favorite cheese selections featured in a series of handcrafted delicacies like the aromatic Blue Cheese and Smoked Ham Toast Sandwich, Mini Cheddar Cheese Ball, Brie Cheese with Roasted Duck on Bread Roll, Goat Cheese and Roasted Tomato Crostini, Salmon and Kaffir Lime Cheese Mini Bagel, Caramel Cheese Tart and Fresh Berry Cheesecake. The tantalizing tea set also offers varieties of fragrant sweet morsels all infused with premium green tea such as tiramisu, macaroons, crème brûlée, Marnier praline and fluffy scones, best accompanied by a blissful cup of freshly brewed tea for an indulgent afternoon.